Conjure up in your mind if you will some of the classic motoring designs of past years, I am talking about designs that you recognize immediately a car that you need only see a glimpse of to know instantly what it is, the giveaway shape of those headlamps thundering towards you, looming high in your rear view mirror.
Well if you're a petrol head like me they will no doubt have something akin to the Porsche 911, Mini, Land Rover, E-Type, Mk2 Jaguar featured in your mind and I am sure quite a few of you will think of the Range Rover classic, a design that remained virtually unchanged throughout its 25 year production period.
So lets cut to the chase as they say when I heard of the prospect of the last police classic Range Rover and one of the last classic Range Rovers to come of the production line at Solihull about to be scrapped, once I had got off the floor with shock I knew it had to be saved, although currently being the owner off several classic vehicle including two Range Rovers helped spur on my enthusiasm.
I knew this vehicle personally having joined the Central Motorway Police Group in the late 90's this particular Range Rover was just about to bid its final farewell to Motorway Policing at CMPG because of its classic status it was decided that the Heritage Motor Museum would take charge of it and it was sent fully loaded with all its police kit to The British Motor Heritage Centre, Gaydon on permanent loan so did not suffer the fate of many of its sister vehicles.
<![if !vml]>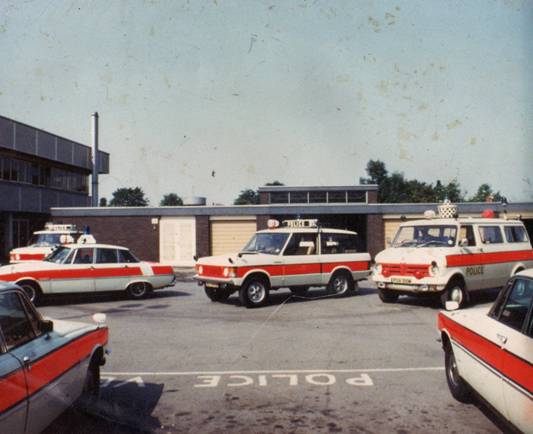 <![endif]>
Central Motorway Police Compound Circa 1971
Just to explain at the material time and until very recently West Midlands Police being an avid user of the locally made Range Rover since the start of production would issue the vehicle to the motorway unit and once it had completed its duty in that role which on average would be around 2 –3 years with mileages approaching and beyond the 200,000 mark the Range Rover would be either used by the forces service dept as a call out vehicle or maintained in police livery for inclement weather the view was that after a further 5 or so years the mileage would even itself out. Sometimes these vehicles would see more than 10 years service in the force.
So back to the Range Rover in question N673CUK or 673 (police officers usually refer to patrol vehicles by the numbers or letters in the registration).
<![if !vml]>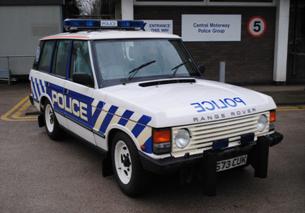 <![endif]>
CORGI collectors amongst you may already be familiar with this vehicle; CMPG had commissioned Corgi to make 5,000 models of N673CUK so I bought two (one to play with, one for best).
<![if !vml]>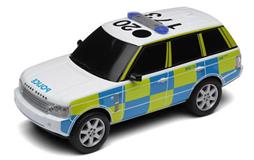 <![endif]>
Scalextric fans may wish to know that the police Range Rover contained in their "Hot pursuit Set" are also a current serving member of CMPG.
Details become sketchy at this point but it appears some discussions occurred about 673's ownership did it belong to the police of BMHC and apparently this argument went on for couple of years before the Range Rover made its return to the West Midlands Police workshop in Aston, Birmingham almost 10 years after its departure and sat neglected in the corner of the car park.
Having seen the vehicle shortly after it arrived it was pleasing to see she still had all her original fittings including UHF radio system/original tracker system and the boot full of equipment necessary at the time for motorway patrol she had been untouched since leaving the workshop in 1998.
The long years of sat untouched in a museum were showing.
However in the in Heritage Centres defence had 673 not landed there in the first place there stands a distinct possibility that she would now have been recycled into soft drinks can or a similar fate.
<![if !vml]>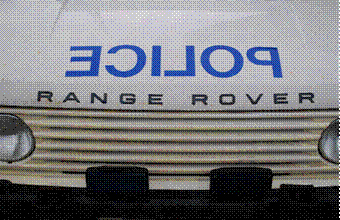 <![endif]>
<![if !vml]>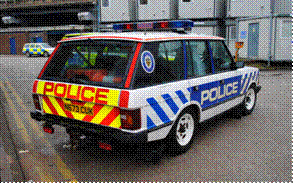 <![endif]>673 sat low on her wheels due collapsed suspension and was devoid of brakes, the service technicians had began to have a little play and fitted a new fuel pump and got her running again but that's were it stopped.
The interior was surprisingly clean and intact the exterior, the special striping that once protected those who worked the vehicle was badly faded<![if !vml]>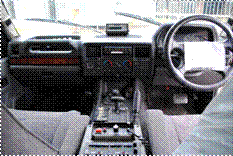 <![endif]>
<![if !vml]>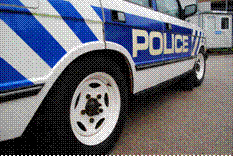 <![endif]>For months I enquired about the future of this historic vehicle and many plans were made for her but most these involved sitting still for a further stagnant period of time surprisingly both Land Rover and the Dunsfold Collection were not interested in taking 673 on so I suggested my own plans to use local business to restore 673 to her former glory putting her back into a roadworthy condition which was met favourably by most but not by others.
I could see the benefit of this vehicle on our fleet for public open days, school visits, motor shows etc, you know think about 4 or 5 cars on display say a ASBO orange Ford Focus ST, Bentley, Range Rover Sport, and the classic Police Range Rover sat amongst them, I can certainly guarantee that 673 would get the most attention everybody loves to look at old police cars, and new ones!
<![if !vml]>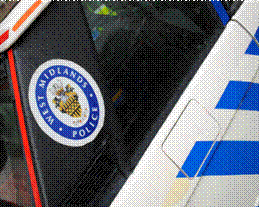 <![endif]>
However those who make the decisions on things like this decided that wasn't going to happen and could not see why anyone would want an old knackered Police Range Rover never mind who would be interested in looking at it.
The fact that the Metropolitan Police have a current classic fleet of which almost if not all are in roadworthy condition fell on deaf ears.
Greater Manchester Police actually pay for a former officer with one of their former Motorway Range Rovers to attend public events.
Trust and Confidence are the keywords for the Police Service, discretion in the way we deal with the public.
I could see this vehicle would assist in reinstalling those values.
Coupled with the fact that for the last three years CMPG has featured greatly on the BBC Motorway Cops Series the interest in the group from the public is immense then this as I see it is the perfect tool to further enhance our presence within the public gallery.
I began approaching some local business with view to a sponsored restoration of 673 which was looked upon favourably but once again these plans were thwarted as the vehicle would not be released to anyone other than a reputable company of some standing and it would not be going to a private enterprise with all the police kit, lights and signs etc which totally defeated the object of the exercise anyone who has restored a former police vehicle back to its working condition will tell you how difficult it is to track and trace the police equipment.
Time was running out for 673 as the powers that be declared she was to be de-kitted and scrapped, shock horror I thought and almost at the same time I met an ally in the name of Ian Brain – Garage Manager from our Coventry Police workshop who seemed to understand where I was coming from and gave some invaluable advice to save 673.
A plan was hatched with Supt Tim Godwin (a previous driver of 673), the custodian of West Midlands Police Museum, Dave Cross who stated he would have loved 673 but had no where for it to go, so I managed to get storage sorted within the joint CMPG /Highways compound and the vehicle was donated to the West Midlands Police museum lock stock and barrel thanks to Andy KELLY our fleet manager arriving here in late November 2009.
<![if !vml]>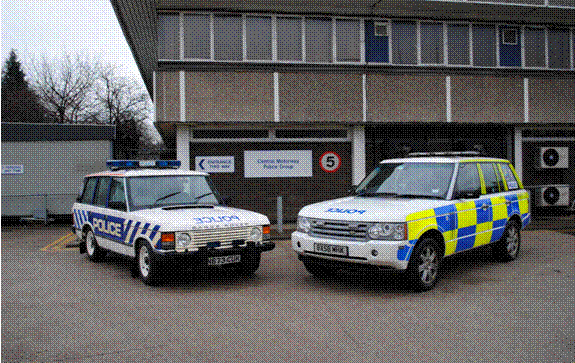 <![endif]>
Size is everything –673 beside its latest cousin
Having restored a number of classic vehicles in my time and over 20 years experience with the motor trade I was finally able to assess the damage long term storage had caused, the suspension was non committal electrical gremlins were abound, sirens and blues in-operative, wipers don't work and the brakes are seriously non existent, however the bodywork has stood the test of time well and the remains of contact with a stolen vehicle following a pursuit many years ago are still evident as is the damaged caused by a shall remain nameless officer whilst reversing into a high kerb (honestly it wasn't there yesterday).
All these faults paled into insignificance when I turned the key I am sure the sound of a finely tuned V8 roaring into life and being revved to within a inch of its life would cheer up even the grumpiest policemen I know, believe me there are quite a few.
<![if !vml]>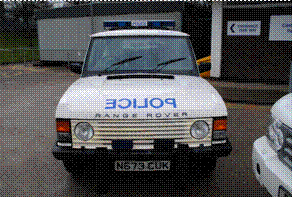 <![endif]>
A number of local businesses that are involved in the motor trade have viewed the project with enthusiasm, and within recent weeks a small part of the funding has been secured to restore the vehicle.
Sandwell Automotive College have agreed to take on the project and again are excited about getting started which will be in the next school term in September, I am pleased about this as it is being restored by the community it was served and how fitting is that??
My call now is to those wishing to assist with the cost of restoring this historic piece of British motoring and Police history please get in contact as all help large or small will be greatly appreciated.
<![if !vml]>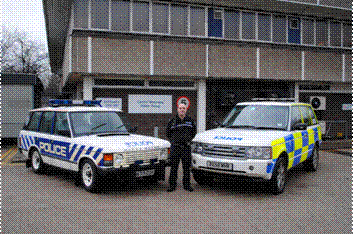 <![endif]>
We have our own ideas for funding and one very distinct possibility is to create staggered release of three CMPG liveried Range Rover models by CORGI ranging from the early 3 door 70's model up to the new Range Rover being delivered this year, this will include N673CUK and the scalextric model currently in service.
Key Benefits
---