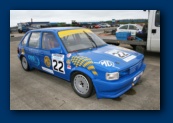 The Season so Far
Lancaster Insurance MGOC Championship
Well having had a few months of in close season, a new season was due to start with a trip down to Brands Hatch. The only real changes to my car for this new season was a new set of graphics which where stunning. Class Z was set to be one of the hardest fought classes in the Lancaster Insurance MGOC 2011 Championship, with several quick cars and drivers entering the class.
Round 1 & 2. Brands Hatch.
A lovely weekend, Race 1. Qualifying went well, 4th overall. A good start to the race, two of the quick starting MGF's making up a couple of positions. However I repassed them and got into 3rd overall chasing the leading ZR, but wasn't able to get to him in time. But a very pleasing start to the 2011 campaign.
Race 2. A fourth row start, but after a few laps got up to the battle for 3rd and 4th place and as much as I tried I was unable to get past them, so had to settle for 5th overall. A good bag of points.
Rounds 3 & 4. Silverstone.
Qualifying was damp, but managed to get 4th on the grid for race 1.
Race 1, was wet but got a way well tucked in behind Jody Bowcott who was following the leading ZR which was second behind a MG TF. In to the left right at Becketts and the leading ZR got a real tank slapper going which caused Jody to brake and get it sideways trying to avoid the leading ZR, I said thank you very much ans got through in to second overall. Jody kept his foot on the gas and also got past the now spinning ZR. I then closed in on the leading MG TF and coming out of the complex I was able to hold a tighter line and get past on the start finish straight. I was then able to keep the lead until the chequered flag. My very first overall race win, boy was I happy.
Race 2. A drying track, I made a reasonable start, slotted in behind the first two ZR's. After a couple of laps got in to second place after the leading MG TF went wide on to the back straight. It was then a case of following Jody Bowcott (my future son-in-law) round the track trying to see where I could get past him. Well as we can round Copse a back marker who was in the middle of the track, Jody moved to the right to go past him and at the last second so did the back marker, causing Jody to brake hard, I went to the left, said thank you very much and took the lead. Within half a lap I had my mirrors full of Jody trying to get past. I managed to hold him off just, to take my second overall win of the day.
Rounds 5 & 6. Cancelled.
Rounds 7 & 8. Silverstone Arena GP Circuit.
Qualifying didn't go well, for some reason the car seemed down on power.
Race 1. Well more laps under the safety car than racing, but these things happen, got a fourth in class, which was more points in the bag.
Race 2. Started well but then got a smell of petrol and as I went round the next right hander looked in my nearside mirror to see fuel coming out like a shower, not good, but carried on. Towards the end of the race saw my fuel gauge getting very low so started to nurse it to the end and at that point I got overtaken my Dean Sullivan in his ZR, but luck was on my side, because as we went round the next corner Red flags where being waved.
So the results go back to the last time you went over the finish line, so I didn't lose that place and got a fifth in class.
Not the best of weekends but at least some more points where scored. A bit of work to do before the next round at Pembrey in July.
In between races I had an e-mail to inform me that I had won for the second year in a row the highly coveted Gahan Trophy awarded to the top competing Police driver by the Federation of British Police Motor Clubs.
Rounds 9 & 10 Pembrey.
Qualifying started okay but after 4 laps the engine just died on me going on to the back straight so I had to sit out the rest of qualifying. We got the car back and when we turned the ignition key we couldn't hear the fuel pump, so a quick check and we found that the fuse had blown. A check and all seemed okay with everything else, well so we thought until half way round lap 2 in race 1 when the same thing happened in the same place. So not a good start.
We got the car back to the paddock and thought that something must be a miss with the fuel pump. But when I got under the rear of the car and looked up towards the fuel tank near to where the pump is located in the tank I saw that some on the wiring to the fuel pump had come loose from its clips and had been rubbing on the hot exhaust which had melted the out covering to the wires and caused the short blowing the fuse. Some insulation tape was applied round the wires and re secured, fingers crossed.
Race 2 Started from the back of the grid, which is always a challenge. Good start made and had after two laps got up to 5th and started the chase of the leading bunch. As much as I tried I was only able to close the gap a few tenths a lap which just wasn't enough, but 5th overall and 3rd in class wasn't to bad.
Round 11 & 12. Snetterton 200.
After a good qualifying, learning the changes to the circuit etc 4th on the grid was a result.
Race 1. Good start made but coming on to the new sharp left hander that went on to the back straight I had several cars swarming all over the rear of my car, I had a TF in front who I thought would get good drive on to the back straight, wrong and I just touched his rear nearside which stated him into a pendulum motion left right and so on. Which way do I go as his rear went to the left I went right only for him to come back and collect my front nearside and we both went spinning on to the grass. I collected things together and rejoined back in 12th place. I had bodywork rubbing on the front but fought my way back to 8th overall and 4th in class which was better than I had expected. Both Simon and Steve set about trying to get the bent bits of bodywork off the tyre ready for race 2.
Race 2. Not a brilliant start, but a steady race coming home 7th overall and 4th in class. However again this season Class Z was on half points. Regs state that your class needs 5 or more starters for full points we had 4, disappointing as nobody in our class stood any chance of winning the overall championship…..
Round 13 & 14 Croft.
Due to my car still being repaired from Snetterton I was unable to attend.
Round 15 & 16. Oulton Park.
A good qualifying 3rd on the grid and two excellent starts I managed a 4th and 3 rd Overall and 2nd in class. It should have been two 3rd's but halfway through race 1 I noticed that my bonnet was coming loose and didn't fancy that hitting my windscreen as its rather large and heavy so slowed allowing a TF past but staying ahead of the next class Z runner. A good bag of points.
Round 17. Mallory Park.
The last round of a hard but very enjoyable season. A full grid of 30 cars, a pity we couldn't have had that all season….
Qualifying started but after two laps I saw that Jody had a smoking rear nearside wheel so I followed him into the paddock to try and get it sorted. A binding caliper was the problem. We had only done two steady laps and would start 29th and 30th at the back of the grid, interesting to say the least.
The race…I made a cracking start and after two laps had overtaken 19 cars and was on the back of the main pack of quick racers. Coming up to hairpin at the end of lap 3 I braked and I had a rear offside wheel lock up which threw me sideways and into the barrier…ouch end of race, but as they that's motor racing. So a bit of work to be done for next season. 3rd in Class Z and as I have previously said no chance of winning the Overall Championship which was my main aim, but roll on 2012.
I would like to take this opportunity to thank my team, Simon keeping us topped up with coffee and food, Steve for looking after my car and keeping it looking like a new motor. I wish to thank the West Midlands Police Motor Club, Garden Exteriors Ltd and H D Ricketts Ltd for there continued support.
Last but not least a big thank you to my long suffering wife Roz who supports me all the way in my racing.
---