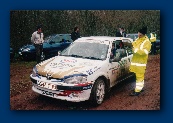 The Rally Marshalling Section is assisted by The Phil Price Rally School. http://www.philprice.co.uk
The aims of the marshalling section and its dedicated team are, to promote and support Motor Sport (Rallying) in every way possible from grass roots up to International level.
Key Elements
Our main role normally is that of timekeeper. This involves support and control of rally special stage `flying finish and stop line' issuing stage finish times to the individual rally crew as they complete a particular stage. On occasions we cover special stage arrival and start control, issuing crews with their particular start time. We also carry out general marshalling, which may be in the middle of a special stage or at a service area. There are occasion when we go back to base roots of motor sport and marshal road rallies.

Motor Sport generally and especially rallying, is in great need of support from marshals, without this support, rallying cannot continue to grow and flourish, as it really should.
---